Associate Pastor's Column
A blessing, benediction, is pronounced at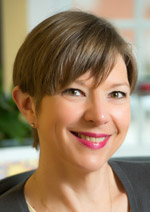 the end of worship each Sunday morning, immediately following the final hymn and sometimes preceded by a charge. It is the last part of the liturgy, and it is meant to be received with eyes open and alert, ready and willing to be sent into the world as God's own people carrying out the mission of the church. In worship, we have been gathered by God's own hand, and we will be sent, scattered, by God, too, as ones who have been blessed to carry the blessing with us. The blessing, usually drawn from Scripture, is God's blessing given to the people, as they are ready to make their departure into the world. They are going out to meet the responsibilities and gladness, troubles and joys of life secure in the shelter of God's trustworthy Word, and strong in its power.
"Lead me, guide me, walk beside me" is the prayer we use for the Blessing of the Backpacks done on the Sunday before school resumes after summer break. The blessing expresses and evokes both a feeling of protection and the courage to act as God's own because of the shelter, nurture, and power of the One who sends us out into the world. The blessing is not meant to be exclusive to us alone but to be shared with those around us, because we are strong in the One who claims us.
In these days of division, tension, uncertainty, anxiety, questions, and a real desire to pray, offer hospitality, act, and serve as God's own, may we remember whose we are and that the shelter of God's Word and strength of its power is to be shared with those around us who are carrying heavy loads. The blessing of "Lead us, guide us, and walk beside us" carries with it the possibility that we might act with the strength of the One who sends us and be courageous in situations when following Jesus means going into precarious places. May we know that we do not go alone.
Teacher Training
Sunday, August 20
Come and join us for lunch and a presentation of what is new and forthcoming in the world of faith learning and formation by Leah Wykoff, Grace Presbytery resource director.
Kirkin' Committee Kick-off Meeting
Plan to be here for our next Kirkin' o' the Tartans service, October 29, 2017! The Kirkin' Committee will have its kick-off meeting on Sunday, August 20, at 11:45am in Room 200, and we need your ideas and helping hands. Please come to this meeting and help us make the 2017 Kirkin' a memorable church and community event.
Presbyterian Women will have a business meeting on Tuesday, August 22 in the church parlor at 9:30am. All women of the church are invited as we will be sharing about our upcoming fall activities and Bible Study.
Save the Date: Denton Association of Christian Women will meet Tuesday, August 29 at 9:30am-11:00am at First Emmanuel Church!
Become a Part of St. Andrew's Prayer Ministry
Are you looking for a way to make a positive difference and at the same time enhance your prayer life? If the answer is yes, then please consider becoming a part of the St. Andrew Prayer Ministry. This ministry, part of the Diaconate's Congregational Care sub-committee, is one way to care deeply for one another. There are four groups of faithful members who meet monthly, each group during a different week. The printed prayer requests, names of members in military service, and prayer requests submitted to the oval box in the Parlor are read aloud and added to a group member's individual prayer list for the week. Group members are committed to praying daily for everyone on their list for the week.
If you are interested in participating, or have more questions, please speak with a group contact person (listed below), or Prayer Ministry Coordinator Barbara Meriwether, at
[email protected]
.
Meeting times are listed below:
Group 1: First Monday of the Month, 10am, Parlor
Group 2: Second Thursday of the Month, 10am, Parlor
Group 3: Stephen Ministers

Group 4: Fourth Sunday of the Month, after Worship, Brides/Columbarium room
Food! Fellowship! Fun! Bring your favorite breakfast/brunch potluck dish and join everyone in Fellowship Hall for Rally Day 2017! There will be singing, Sunday School student and teacher introductions, and a great start to our Fall season of programs and Worship. The line forms at 9:00am, Sunday September 10, beverages are provided - see you there!
Save the Date!
Acolyte Training for 4th and 5th Graders is on Sunday, September 17 immediately following worship in the chancel area. This is an important way for our older elementary children to serve in worship, and it begins and ends each Sunday worship service. Questions? Contact Michael Ball at
[email protected]
.
Change for Change | Children and Youth Raise Over $600 for Heifer International
Thank you for bringing plastic bags of coins, rolled up pennies, and for emptying your pockets of loose change! Your generosity and the good humor you displayed by bringing heavy bags of coins from home and to the table in the corner of the Narthex each week garnered over $500 in loose change and small bills. The Mission Committee very generously volunteered to "pay" $2 for every child and youth who attended Sunday School each week this summer and that amount is $104. That brings the grand total to $604! There will be a Moment for Mission on Rally Day when the children and youth will announce the results of their vote to decide what will be purchased - so stay tuned for their results.
St. Andrew Co-ed Kickball Team
Have you been longing to get outside and play? Well join us for a recreational co-ed kickball team in a league through the City of Denton. Participants must be 16 years old or older. We are looking to field one-maybe two teams! Participants will need to pay $20 each to play. Cost covers entry into league and cost of jerseys. Games are played on Tuesday evenings, starting Septtember 12. If you would like more information or would like to sign up, please talk to Brandi (
[email protected]
) by August 20.
Ushers are still needed for the following fall and winter service dates.
Usher Needs by Date:
October 29: 4 ushers
November 12: 4 ushers
November 19: 3 ushers
November 26: 4 ushers
December 3 & 10: 3 ushers
December 7, 24, & 31: 4 ushers
Christmas Eve Services (5:00pm or 7:00pm): 3 ushers
Macaroni and Cheese, Tuna, Canned Black-eyed Peas, Canned Fruit
Optional: Cooking Oil or Coffee
Please return your non-perishable donations for the Denton Community Food Center to the collection bin by the Coke machine near Fellowship Hall. Thank You!
Summer Church Office Hours
The church office switched to summer office hours on Monday, June 5. The church office is open on Mondays from 8:30am-5:00pm and on Tuesday-Friday from 8:30am-4:00pm.
Sunday, August 20



9:30am Sunday School


Scripture Lessons:

Psalm 86:1-10, 16-17
Romans 6:1-11

Calendar



Teacher Training
Sunday, August 20
11:45am, Room 206/208

Kirkin' o' the Tartans Committee
Sunday, August 20
11:45am, Room 200

Stewardship Campaign Committee
Sunday, August 20
11:45am, Room 207/209

Presbyterian Women Business Meeting
Tuesday, October 22
9:30am, Parlor

Memorial Service for Linda Hellbusch
Thursday, August 24
1:30pm, Sanctuary

Super Wednesday Returns
Wednesday, September 6

Rally Day
Sunday, September 10